Item 26197


Your Price today: $ 35.99



Arcata Pet does not normally stock this item. We would be happy to order it for you. Time until it arrives at our shop will vary depending on supplier availability and shipping; when it arrives we would ship to you. If you would like to have us provide an estimate of delivery time, as well as shipping charges, please tell us the quantity you need, your zip code or country, and your e-mail address. We will get back to you within 24 hours with the information so that you can decide if you want to place an order.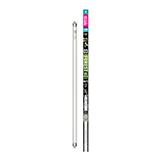 This 22.5-inch, 24-watt T5 High Output D3 Forest 6% UV-B Bulb, is ideal for forest-dwelling reptiles. Made in Germany, the bulb is flicker free, produces excellent color rendition, and lasts a long time; 12 months! This is a T5 HO bulb, and will only work in an appropriate fixture. WILL NOT WORK in a standard fluorescent fixture.
Resembles natural sunlight
UV-B - 6%
UV-A - 30%
Kelvin - 7000K°
Tube Diameter - 016mm
Excellent color rendition


Manufacturer: Arcadia Reptile
See all products from Arcadia Reptile
Visit Manufacturer's website: arcadiareptile.com
Arcadia D3 Forest 22.5in T5 High Output 6% UVB Bulb
UPC: 844046006493
Condition:New