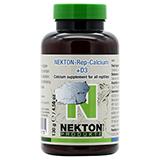 Potent calcium and vitamin D3 supplement for all reptiles
In order to build and maintain the skeleton in reptiles and amphibians, it is necessary to have a sufficient supply of calcium. NEKTON-Rep-Calcium+D3 provides an excellent source of calcium and can be used both preventatively and in case of existing deficiency symptoms by incorporating it into regular feeding.
NEKTON-Rep-Calcium+D3 is enriched with vitamin D3 and two amino acids, which support the optimal growth and maintenance of the skeleton and promote a healthy calcium metabolism in all reptiles. It can be used to prevent and treat calcium deficiency and its consequences. To incorporate it into their diet, it can be easily mixed into shredded feed.
For insectivorous reptiles and amphibians, food animals can be coated with NEKTON-Rep-Calcium+D3 for added nutrition.
How to feed:
0.25g (0.009oz) NEKTON-Rep-Calcium+D3 per Kg (2.2Lb) body weight daily, or 1.5g (0.053oz) once a week. Not water-soluble, ideal for dusting/coating of the feed or feeder animals.
One level measuring spoon (enclosed) corresponds to 1g (0.035oz) NEKTON-Rep-Calcium+D3.
Due to the higher content of vitamin D and trace elements compared to complete feeds, this supplementary feed may only be fed to reptiles up to 3% of the daily ration.
Storage:
NEKTON-Rep-Calcium+D3 should be stored dry and out of sunlight, between 15° and 25° C (59° and 77° F). DO NOT STORE IN THE FRIDGE !!!


Composition:
Calcium carbonate, magnesium carbonate

Analytical constituents:
Ca 37 %, Mg 0.02 %, Na 0.02 %

Nutritional additives per kg (2.2lbs):
50,000 IU vitamin D3, 500 mg iron (ferrous sulphate, monohydrate), 491 mg zinc (zinc sulphate, monohydrate), 250 mg manganese (manganese(II) sulphate, monohydrate), 144 mg copper (copper(II) sulphate, pentahydrate), 20 mg iodine (calcium iodate, anhydrous), 16 mg selenium (sodium selenite)

Available in 4 sizes: 30g (1.06oz), 65g (2.29oz), 130g (4.56oz), 550g (19.4oz)



Manufacturer: Nekton
See all products from Nekton
Visit Manufacturer's website: www.nekton.net
Nekton Rep-Calcium+ D3 Reptile Supplement 130gm
UPC: 733309224135
Condition:New