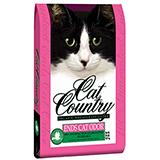 Cat Country is Mother Nature's solution to your kitty litter problem! Cat Country is an organic cat litter made from Western Red Winter Wheat Grass which naturally eliminates odors and ends tracking. The specially formulated winter wheatgrass fibers bond with the urine and eliminates the formation of ammonia and odor, and the shape and size of the pellets ends tracking and dust in your home. It has no chemicals, perfumes, or polymers that you might find in other litters. It's flushable, compostable, biodegradable and has unmatched odor control. Economical to use, Cat Country lasts twice as long as clay or clumping products, with minimal maintenance.
Because Cat County contains no perfumes, chemicals or polymers it is much safer and healthier for you and your pet. Don't forget that cat owners also breathe dust when maintaining litter boxes.
Cat Country is biodegradable and flushable. It is compostable and makes an excellent mulch or soil additive.
One filling of Cat Country with regular maintenance will last 2 to 4 times longer than other litter products, with NO ODOR.
The size of the pellet is designed to eliminate tracking. Cat Country does not fit between the toes or cling to the fur. The pellets are air cleaned before packaging, which ends dust.


Manufacturer: Mountain Meadows Pet Inc.
See all products from Mountain Meadows Pet Inc.
Visit Manufacturer's website: www.mtnmeadowspet.com
Cat Country Wheat Grass Litter 20 lb
UPC: 017488200204
Condition:New