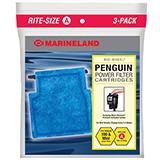 Rite Size Filter Cartridge

A

fits the Penguin Mini Bio-Wheel Filter. Each preassembled cartridge slides easily into place, providing superior mechanical and chemical filtration, and making replacement fast, dry and effortless. The cartridge mechanically filters water through a pad of double thick polyfiber. Debris and waste particles are trapped, and water is chemically filtered through Marineland's Black Diamond Premium Activated Carbon.

Inside the cartridge, a patented ribbed backing ensures the even distribution of activated carbon to deliver maximum water-to-carbon contact. No more "tea bag" effect, no water bypass as with loose or bagged methods. The result? Crystal clear, crystal clean water.
Features
Large Polyfiber Filter Pad with Patented Ribbed Back Traps more dirt, faster...no filtration bypass
Up to 100% More Carbon Superior Black Diamond Premium Activated Carbon removes more pollutants.
Ready-To-Use Convenience No messy assembly required. Changes in an instant.


Manufacturer: Marineland
See all products from Marineland
Visit Manufacturer's website: www.marineland.com
Rite Size Penguin Filter Cartridge A 3 pack Mini
UPC: 047431013537
Condition:New