Software:
WWPlus
WWPlus32
WWSaver32
WWHotCorner
ImgViewer/16
ImgViewer/32
BirdData

Pet Shop and info:
Pet Supplies

Visual Basic
Source Code
Samples

WWHotCorner Screen Saver Starter
WWHotCorner is a free hot corner utility from Arcata Pet Software for Windows 95/98/ME/NT/2000/XP.

A hot corner utility runs hidden, and when you move your mouse to the selected corner your screen saver starts. It is immediate by default, but may be delayed up to 60 seconds. The program configuration screen is shown below: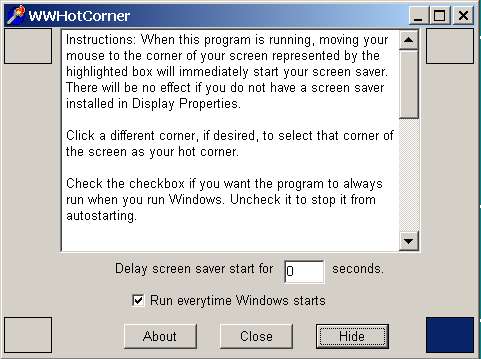 The dialog above will show when you first run the program. After that it will always start hidden. To see the dialog again, run the program again while it is already running.

Download version 1.0 here

wwhotc.zip

WWHotCorner does not use any support files and does not need to be installed. Put it where you want it and run it from there. To uninstall, just delete the program, although if you have it set to Run every time Windows starts you should disable that before deleting. WWHotCorner is completely free, and will never expire.


---
Comments? Send mail to donb@arcatapet.net
Snail Mail: Arcata Pet, 600 F Street, Arcata, CA 95521-6301 USA
---
Webspace provided by and ©Copyright 1994-2013 by Arcata Pet Supplies. All Rights Reserved.