Software:
WWPlus
WWPlus32
WWSaver32
WWHotCorner
ImgViewer/16
ImgViewer/32
BirdData

Pet Shop and info:
Pet Supplies

Visual Basic
Source Code
Samples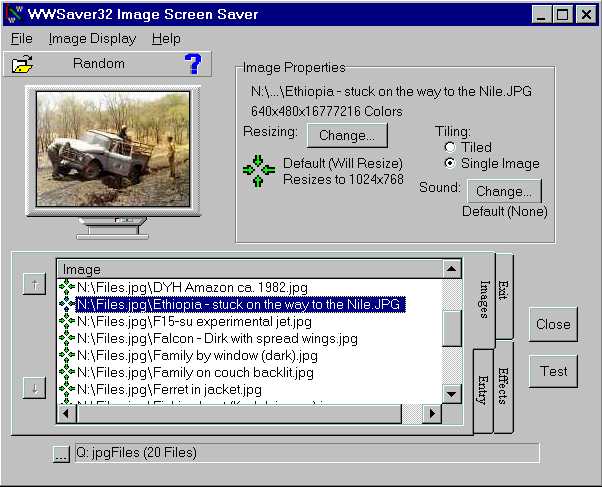 This is a view of the WWSaver32 configuration dialog with the Images tab selected. The small preview screen, which normally has an actual instance of the screen saver running, has been replaced with a view of the image selected in the queue below. This preview image will immediately reflect any changes made to resizing, positioning, or tiling of the image. The image shown here is a 640x480 image set to resize to full screen, which was running at 1024x768.
---
Comments? Send mail to donb@arcatapet.net
Snail Mail: Arcata Pet, 600 F Street, Arcata, CA 95521-6301 USA
---
Webspace provided by and ©Copyright 1994-2013 by Arcata Pet Supplies. All Rights Reserved.